Local Trusted Dumpster Rental Gonzales
Are you ready to get rid of some trash? Morales Roll-Offs has the answer to your waste management needs with their dumpster rental Gonzales. Our company is top-rated in the industry for reliability, friendly customer service, and well-maintained equipment. Business owners and homeowners of Gonzales, Louisiana trust Morales Roll Offs any time they need trash and debris containment. We have a dumpster to suit the needs of any job or project. From household cleanouts to construction sites and commercial businesses Morales Roll Offs has the roll-off dumpsters Gonzales that the community has come to count on.

Our team has an excellent reputation for knowing how to help our customers get the dumpster rental Gonzales that suits their particular project. We are committed to getting a dumpster to your site and placing it where it's most convenient for you to use, cutting the time to complete your job. Make the job of trash and waste management an easy one. Having one of our roll-off containers Gonzales outside your door or on your job site is an invaluable tool in getting the job done. Not just getting the job done, but getting it done with efficiency. Cleaning out can be tough work, we help make the work a lot easier.

Whether you're a contractor or a homeowner our team has been helping people clean out their homes and job sites. For years, the residents in the area have relied on a dumpster Gonzales for any trash and junk they want to be taken away. We haul it all away, trash from a cluttered home or yard debris to a construction site's waste materials. One call to Morales Roll-Offs and you're on your way to getting the junk out of your way.

We have a convenient online system where you can choose the container you need and set up delivery and payment all in one easy transaction. If you would rather speak to one of our customer service pros we are here to help with your dumpster rental Gonzales. At any point during the rental if questions arise feel free to call us at (225)-427-0000. Every project is unique and we have reliably handled a multitude over our years in the local dumpster rental LLC Gonzales LA business.
We Take Just About Everything
Some examples of the junk we haul away include
Refrigerator Disposal

Garbage Removal

Mattress Disposal

Foreclosure Clean Outs
Construction Waste Removal

Yard Waste Removal

Trash Removal

Appliance Removal
Television Disposal & Recycling

Furniture Removal

E-Waste Disposal

Hot Tub Disposal
Dumpster Rental Gonzales LA For Any Size Project
Are you finding that you're under a mountain of junk and trash and have nowhere to put it? You need a dumpster rental Gonzales LA from Morales Roll-Offs on site. Cleaning out with no place to dispose of the trash doesn't make good sense. Let us make your life easier by putting an easy load Gonzales roll-off dumpster to work for you. Handle your junk once, your job will go quicker and easier. Don't let waste containment, or lack of, slow you down when you have goals of getting your next project done.

Morales Roll-offs have a range of sizes to suit every project. Our team has the know-how to help determine which size is for your job. Let us know the type and scope of your project and you will be on your way to having the container you need to manage the debris.

We have the dumpster rental Gonzales LA sizes that will accommodate any project. Sizes range from 10-, 20, 30, and 40-yard options. We secure your filled dumpster and safely haul it to the landfill of East Gonzales Parish. Here are some of the ways our dumpsters are put to use. Call us today and let us show you how we can make your trash go away.
Reliable Residential Gonzales Dumpster Rental
We love helping homeowners improve the place they live. Don't let the broken or unused items that have accumulated in your basement or garage take over. Reclaim your space and toss the junk. There is no easier way than with a Gonzales dumpster rental.

You can't park your car in the garage due to the clutter? Take the step to clear it out and make it a space to be proud of. Are you finally doing the bathroom remodel? You'll need a place for all the debris. Morales Roll-Off's dumpster rental prices Gonzales are surprisingly affordable. You get the waste management you need and it won't bust your budget. You'll find incredible value in having one of our containers there to manage your waste, Don't expect your weekly trash man to take your debris away, a reliable residential Gonzales dumpster rental is the waste management solution you're looking for.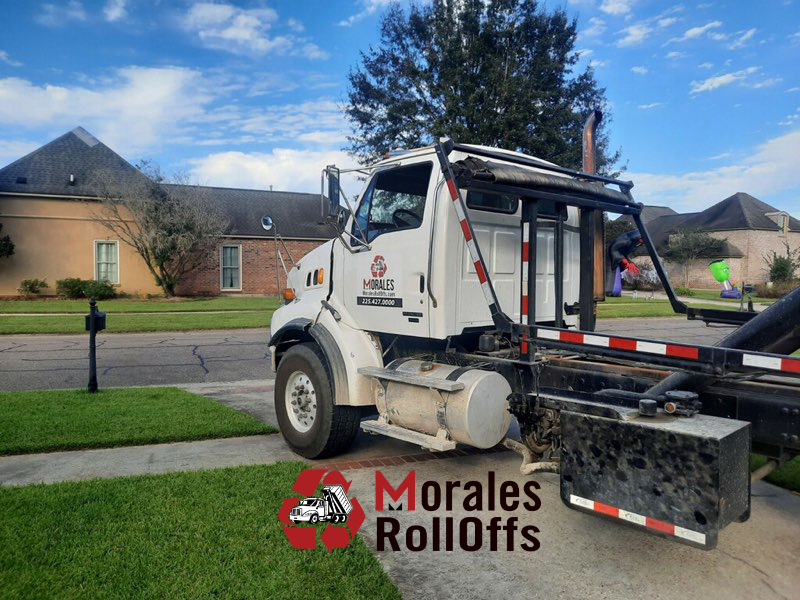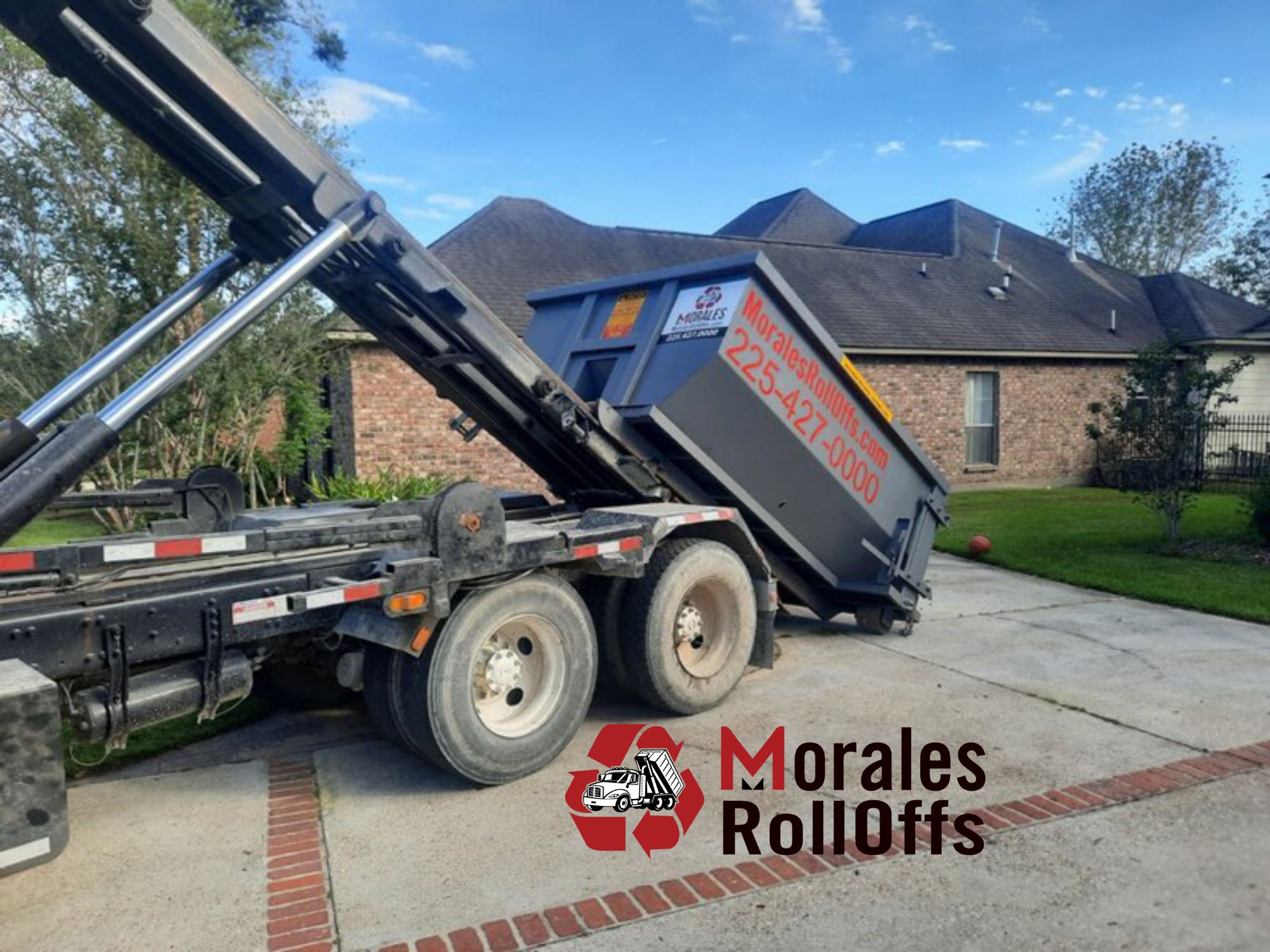 Roll Off Dumpster Rental Gonzales For Yard Waste
Homeowners love our roll-off dumpster rental Gonzales for their yard waste. Don't let the debris from trees and shrubs pile up year after year, dispose of it. Debris from landscaping projects and garden cleanouts all go away easily with a heavy-duty dumpster to contain it.

As a homeowner, you know the investment you have in your home, keeping the yard looking neat and trimmed is important. Morales Roll-Offs dumpster rental prices in Gonzales are a great value for yard waste removal. We make it affordable to dispose of your yard waste. You'll be confident that you have the means to have it all hauled away with a roll-off dumpster rental Gonzales.
Affordable Construction Dumpster Rental in Gonzales
No local construction site would be without a dumpster rental in Gonzales from Morales Roll-Offs. Contractors know they can't be without a reliable waste containment system on their job site. Having a container for all of the debris from construction is non-negotiable, it's a matter of safety. A construction dumpster rental Gonzales from our inventory of heavy-duty containers is what local contractors count on.

We have the best options to manage discarded materials, from any job. If you need a large dumpster rental in Gonzales you've come to the right place. With our sizes going up to and including the 40-yard container, they will handle the biggest jobs.

No matter the size of the job, when you have a construction dumpster rental in Gonzales you have one of the most important pieces of equipment on the job. Rely on us to have your waste container there when you need it. Morales Roll-Offs is the construction contractor's go-to for waste management.


Roofing Material Dumpster Rental Gonzales Louisiana
No roofer would be without dependable waste containment on the ground below the roof they're working on. If you have a roofing job coming up we have the dumpster rental Gonzales Louisiana that will make your job more efficient.

Whatever type of roofing material you're removing it all goes into the dumpster rental Gonzales Louisiana. From shingles to sheet metal contain it all safely with an easy-to-load dumpster from Morales Roll-Offs. Manage the takeoffs safely, keep them contained and out of the way.
Professional Commercial Roll Off Dumpster Rental in Gonzales
Business owners looking for a commercial roll-off dumpster rental in Gonzales turn to the pros and use Morales Roll-Offs. We have the sizes that will suit all of your commercial and industrial waste containment needs. We offer terms that you need whether short-term or on a long-term basis. We cater to your business needs and make your trash removal something you don't have to think about.

Reach out today and we can discuss what your business needs are for waste management. Turn to us for a commercial roll-off dumpster rental in Gonzales. We will dispose of your commercial or industrial waste with budget-friendly prices and the customer service you deserve.
Demolition Dumpster Rental Gonzales, LA
Demolition work is some of the bulkiest and usually hardest to contain job debris. Our heavy dumpster rental Gonzales, LA will handle anything you can throw in it. Demolition work can create a wide range of debris to be contained. When knocking down a building you'll have roofing materials and wood framing and siding, our dumpsters will take it all.

A lot of demolition work has concrete involved from a floor or retaining wall. If you'll have concrete debris from your next demolition job we ask that you notify us in advance. There is a weight limit of 10 tons of clean concrete. We can dispose of the debris-free concrete in our dumpster rental Gonzales, LA where it is taken to a concrete recycling yard that accepts only concrete.
Why Choose Us for Your Local Dumpster Rental in Gonzales?
You have choices when it comes to local dumpster rental in Gonzales. We aren't the only rental company in the area but we have the reputation as the best. We have served thousands of customers with our rentals and taken the stress of waste disposal off their minds. When you use one of our dumpsters Gonzales, you'll see what sets us apart. A friendly team of experienced pros, who have worked in the area for years. Knowledge of the area that makes us stand out, we know what works and what doesn't.

Choosing Morales Roll-Offs is the smart choice for budget prices, the best size selections, and an experienced pro staff that knows the local dumpster rental in Gonzales. Count on us for your next rental, you'll be glad you did.
Sizes to Choose For Your Best Dumpster Rental, Gonzales
When you're looking around for the best dumpster rental, Gonzales our name comes up. We all want the best when we are shopping for a service provider. We provide the largest selection of sizes in the area so that you can get just what you need in a container. We are here to help if you're unsure of the size to rent, giving us some details of your job will help us to steer you in the right direction. The sizes we have and their common uses are below.

10-yard: Average household cleanouts of attic or basement.
20-yard: Homeowners with yard debris or a remodel often use this size.
30-yard: Roofers and contractors use this size for a job that lasts a day or two.
40-yard: This size is used by the construction industry which has ongoing waste containment needs.

No matter the size of your job or project, you'll get our A+ equipment and customer service. You'll be saying Morales Roll-Off is the best dumpster rental, Gonzales that the locals count on.
How to Rent a Gonzales Dumpster
We take the stress-free approach to Gonzales dumpster rentals. You can use our online system any time day or night when it's convenient for you. When you know what you need you can reserve the size suited for your waste management, and enter your information. Pick the date and location and be sure to give us all the information our drivers need for correct delivery. Submit your payment, you'll get a confirmation email when the transaction has been completed. If at any point you need further assistance, or if you want to complete the transaction over the phone we are here to take your call. Reach out today for the highest-rated Gonzales dumpster rentals in the area. Call us at (225)-427-0000 today!
Number One Dumpster Rental Near Me in Gonzales
When you hire Morales Roll-Offs you've got the best in the business. When area residents are searching for a dumpster rental near me in Gonzales we are the clear choice for the county of Ascension Parish. We service not only Gonzales but the following cities as well: Baton Rouge, Prairieville, Saint Amant, Galvez, Saint Gabriel, Central, Denham Springs, Walker, and Zachary.

These Zip Codes are in our service area: 70707, 70718, 70737.

If you don't see your Zip Code, give us a call and we'll let you know if we cover your area with the best dumpster rental near me in Gonzales.
FAQs Regarding Trash Dumpster Rental in Gonzales
If you have never rented a trash dumpster rental in Gonzales then you have questions. We have the answers you need. Our goal is to make it a stress-free process for you to get rid of your junk. Let our experience go to work for you. Our team is here to answer all of your questions about a roll-off dumpster Gonzales.

Reserve your trash dumpster rental in Gonzales soon so that you can clear the clutter from your life. Here are a few of the frequently asked questions that we have received.

1. Are there any items that I can't put into your dumpsters?
Yes, there are items that we cannot accept. Landfills will not accept any materials that are toxic, flammable, poisonous, or corrosive. Paints, oils, grease, and fuels are not accepted. Call us with questions on any specific items and we will give you the policy on that item.

2. Will you take my old refrigerator?
We must be notified in advance, and the appliance must be completely emptied. Place the refrigerator on the end of the dumpster just inside the door.

3. Do you deliver and pick up on the weekends?
Call us at (225)-427-0000 to make arrangements for weekend deliveries or any other unique disposal needs. We strive to meet the needs of all of our customers.
5 Star Gonzales Dumpster Rental Pros
Morales Roll-Offs is the Gonzales dumpster rental pros for so many reasons. With so many 5-Star reviews from our happy customers, we are the top choice in the area.

Top rated in customer service, equipment, and knowledge of the industry. Don't look anywhere else you have found the Gonzales dumpster rental pros!

Here is what a few of our happy customers had to say

"I was having problems getting my dumpsters getting swapped with another company and they were getting full. I called Morales Rolloffs and they were super helpful, courteous and quick! Within hours, I had 3 new shiny dumpsters delivered and was able to avert a disaster. Thanks!! I will definitely use Morales Rolloffs in the future!" -Mitch Melancon

"We rented a rolloff dumpster from Morales Roll Offs at their Gonzales store, I called and was taken care of immediately. The dumpster was delivered and picked up promptly when we were done with it. I would highly recommend Morales Roll Offs" -Maria Thorn Team, LLC

"Super easy to work with!! Got my dumpster straight away. Placed it exactly where we wanted it. We filled it so fast they dumped it and brought it back the same day. Highly recommend using Morales roll offs" -Daniel Newman