Galvez Dumpster Rental
Renting a dumpster in Galvez is definitely the most reasonable way to get a large quantity of junk or waste from a project from the work site to the nearest landfill for proper disposal. Whether you have a small DIY home renovation or commercial waste management needs, ensure that you get a roll-off bin only from a professional local Galvez dumpster rental provider. Morales Roll Offs offers fast, cost-effective dumpster rental service in Galvez, LA. Call us now at (225) 427-0000 to rent a dumpster in Galvez today.
We Take Just About Everything
Some examples of the junk we haul away include
Refrigerator Disposal

Garbage Removal

Mattress Disposal

Foreclosure Clean Outs
Construction Waste Removal

Yard Waste Removal

Trash Removal

Appliance Removal
Television Disposal & Recycling

Furniture Removal

E-Waste Disposal

Hot Tub Disposal
Rent a Roll-off Dumpster in Galvez
Whether you need a small 10-yard dumpster or a large construction dumpster for your project; you can now rent a roll-off dumpster in Galvez affordably, if you get your container from Morales Roll Offs. Our customers can now get flexible rental terms as well as cheap dumpster rental costs when they need residential or commercial waste management solutions. We also offer various size dumpsters to ensure that there is a roll-of container for any project. Morales Roll Offs takes pride in being a reputable dumpster rental service; serving customers with different waste disposal needs in Galvez and all the surrounding areas.

Residential Dumpster Rentals - We also offer the most affordable roll off dumpster rental prices near you in Galvez, and we can deliver a residential dumpster to your home for any project, large or small today. You just need to give us a call and tell us your preferred dumpster size, and a few other delivery details.

The roll off dumpster sizes we offer in Galvez include small dumpster rentals, medium dumpsters and large roll off dumpsters and a customer can usually find any size dumpster, depending on their project. Our dumpster options are; 10-yard dumpsters, 20-yard dumpsters, 30-yard dumpsters and 40-yard dumpsters. While our 10-yard and 20-yard dumpsters are popular with homeowners with different types of home renovations and home improvements; our larger 30 and 40-yard dumpsters are perfect for large-scale projects.

Commercial & Construction Dumpster Rentals - Most construction sites require large dumpsters on site, for quick and convenient clean-up and disposal. We provide affordable large roll off dumpster rentals for use in construction and demolition clean-up projects. Our clients include roofing contractors, homeowners, construction companies and all other commercial renters. Besides construction and demolition dumpster rentals; we also offer commercial dumpster rentals near you in Galvez, for various commercial projects. Contact us to get the right rental dumpster for your project today.

Galvez Dumpster Rental Sizes
What makes it difficult for first time renters to find the best dumpster rental sizes for their projects is their little to no experience with standard Galvez dumpster rental sizes. If you are renting a roll-off dumpster in Galvez, you can find dumpster sizing information on our website and if you still need additional information or guidance for you, to be able to choose the right size dumpster; our representatives are here to help you figure it out. Just contact us.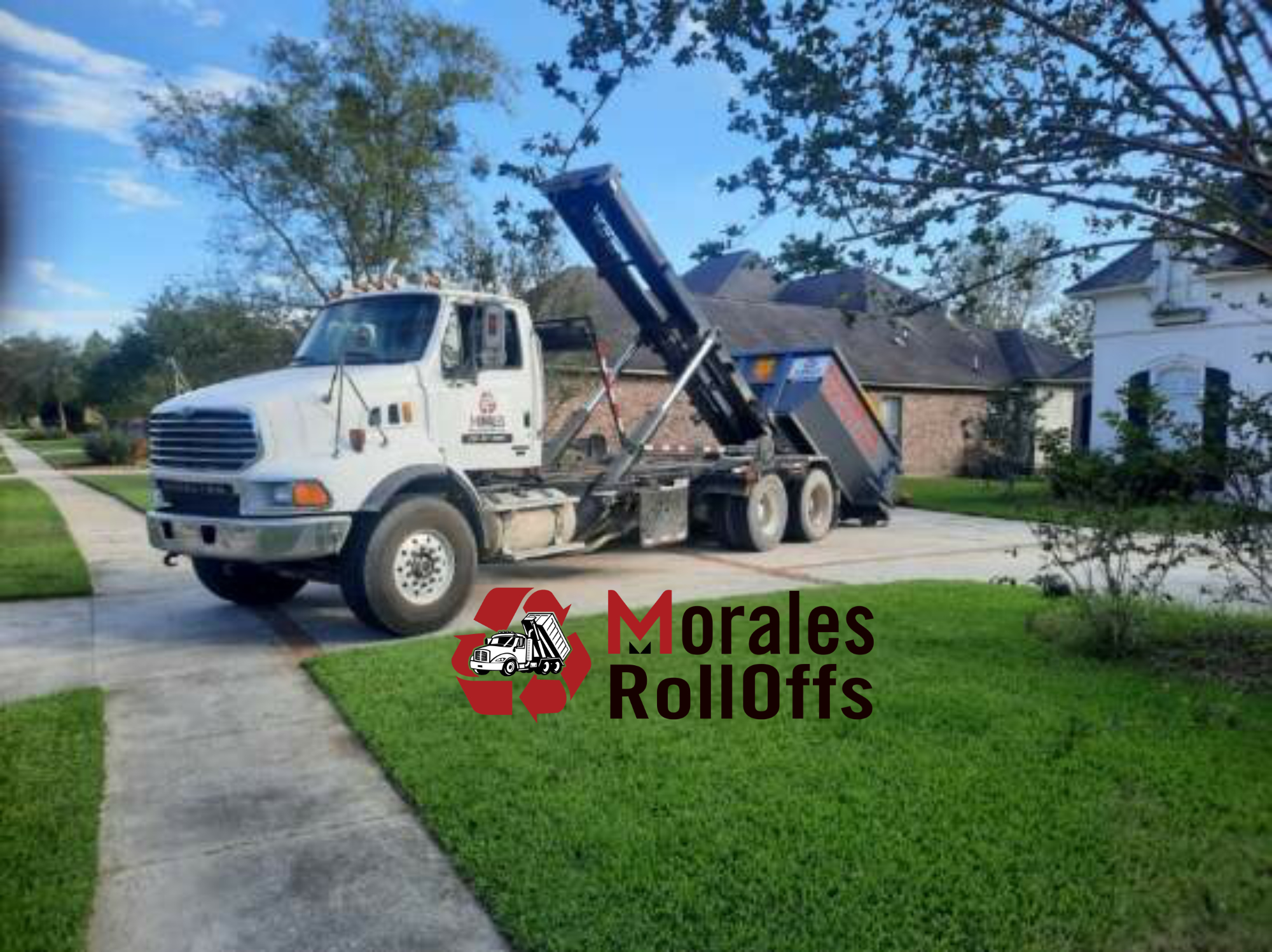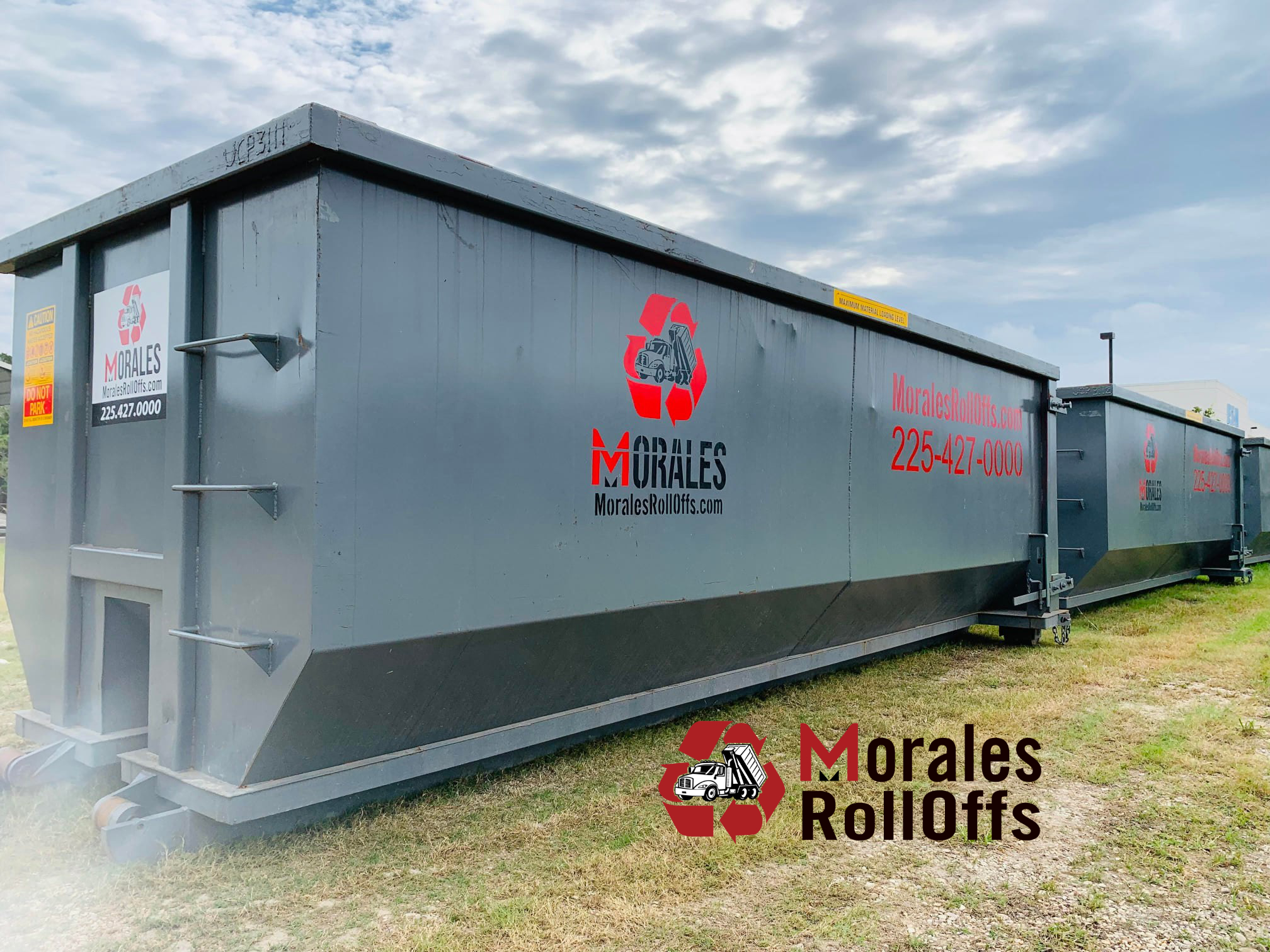 How To Rent A Dumpster in Galvez?
Morales Roll Offs offers customers two ways you can use to rent a dumpster in Galvez. You can call us at (225) 427-0000 to order a rental dumpster, or you can use the online booking service on our website to make an order. Our dumpster rental prices are affordable, and our services are superior, so you can be sure that your dumpster will be delivered right when you need it. And we will contact you at least 2 hours before our delivery team delivers the roll-off bin.

In most cases, if you need to rent a dumpster in Galvez but have no placement site on your property, you can usually consider using an area considered a 'public-right-of way' area. However, you will usually need a dumpster permit to use public spaces as placement sites for roll-off containers, and you can easily obtain a permit from the local office.

Morales Roll Offs offers waste management solutions you can depend on.

The Best Galvez Dumpster Rental Company Near You
When you need a construction dumpster rental, a commercial or residential roll off rental; Morales Roll Offs is a reliable dumpster rental company near you in Galvez you can trust. We offer various dumpster options, cheap dumpster rental prices for all roll-off containers and the best dumpster rental terms. For discount dumpster rentals, we've got you covered. We also have dumpster rentals in Gonzales, LA.